Moong Dal Mungodi Recipe
(Spiced Rajasthani Mungodis)
Dal Mangodis | Badi | Dal Wadi | Moong Dal Ki Badi
Recipe/Food Styling/Photography by – Sunayana Gupta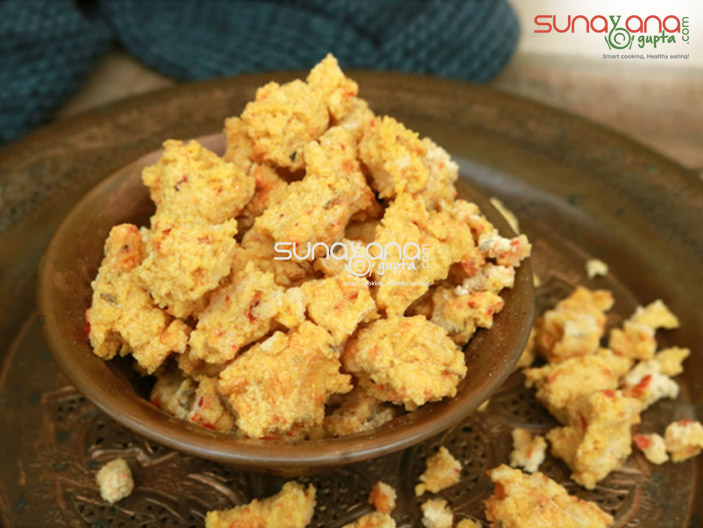 Moong Dal Mungodi or Moong dal ki badi is a snack made with a batter consisting of lentils, freshly pounded spices and piped into small fritters or badi kind of shape to be dried under direct Sun. If you have ever seen that how 'Papads' are made, then you would know that there is a striking similarity between the preparations of 'Badis' and 'Papads'.
In Rajasthan, when it is too cold and fresh vegetables are not available, then these moong dal badis are to the rescue. These readymade badis are fried and used in various curries, pulao, kadhi and dal. You must try the famous Mungodi kadhi as it tastes absolute delish with rice.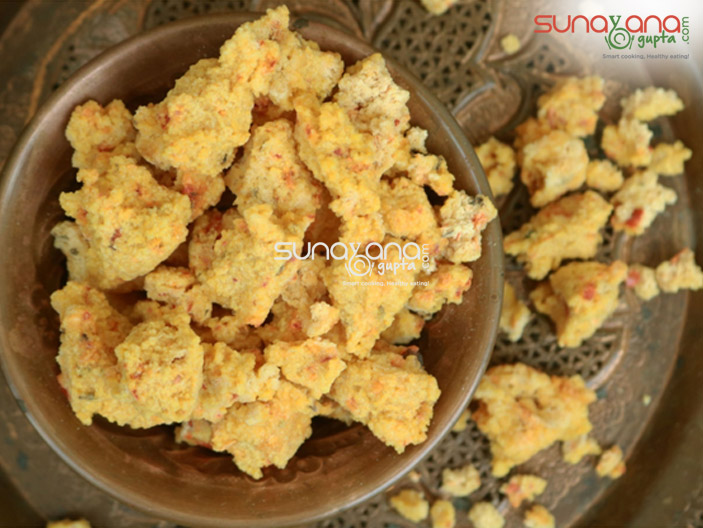 The recipe to make these mangodis is age old and earlier no fancy techniques were used as we do today. Household women used to grind the soaked pulses on stones known as 'Sil Batta'. Whole spices were roasted in a kadhai over a clay oven or 'Chulha' and pounded in large mortar pestle or 'Okhli'. Then this pounded spice mixture was mixed with ground lentil to make a batter. This batter was then poured in small portions or badis onto a plastic sheet and allowed to be dried in open sunlight.
This whole preparation might seem too tiring, but actually it was a way to get close to each other…. sit together & gossip while the whole task was getting completed. I have seen my aunts and grandmothers sharing some interesting stories too. While bringing you all this makes me nostalgic! Yes…those were the days when making badis, kachri, chips, papads, pickles were a group task and even neighbours used to join sometimes.
But, today everything is so handy and instant. We have mixer grinders to grind all sorts of dry and wet ingredients, we have multi functional microwaves, gadgets, computers and still we run out off time. Phew !!!
Ok! Let's come back to the topic. Here I share with you all…. my family recipe to make 'Moong Dal Mungaodis'.
Ingredients –
• Moong dal (Split yellow lentil) – 2 cups
• Salt – To taste
• Asafetida (Hing) – 1 teaspoon
Powdered Spices –
• Turmeric powder – 1 teaspoon
• Red chilly powder – 2 teaspoon
Whole Spices –
• Cumin seeds (Jeera) – 1 tablespoon
• Coriander seeds (Dhaniya) – 1 ½ tablespoon
• Black pepper (Kali mirch) – 10-12
• Fennel seeds (Sauf) – ½ tablespoon
Method –
• Was and soak moong dal in sufficient water for 4 hours.
• Drain the water and grind it to a smooth paste. Keep aside.
• Now we need to roast all the whole spices in a pan till they give out aroma and get a slight darker color.
• Remove from heat and allow to cool at room temperature.
• Transfer these spices in a mixer and grind coarsely.
• Now in a mixing bowl combine together dal paste, grounded spices, powdered spices, salt, asafetida and give a nice mix.
• Remember this batter has to be thick.
• Now place a clean mat or plastic sheet on your terrace or any place where you can get ample sunlight.
• Drop small spoonfuls of this batter at 1 inch gap.
• Allow to dry in sunlight.
• After a day turn them the other way and keep under sunlight.
• When completely dry, store these mungodis in air tight containers and use when required.