How To Make 'Vanilla Butter Cream Frosting' At Home ?
(Homemade Vanilla Butter Cream Icing For Cakes And Desserts)
Homemade frosting | Butter cream frosting | Icing | Butter cream icing
Article & photography by – Sunayana Gupta
Recipe type – Frosting/icing for cakes, muffins, cookies, desserts
Key Ingredients – Butter, icing sugar & vanilla extract
Equipments required – Mixing bowl & electric beater
Technicality – Easy
Preparation time – 10 minutes approx
Cooking time – 0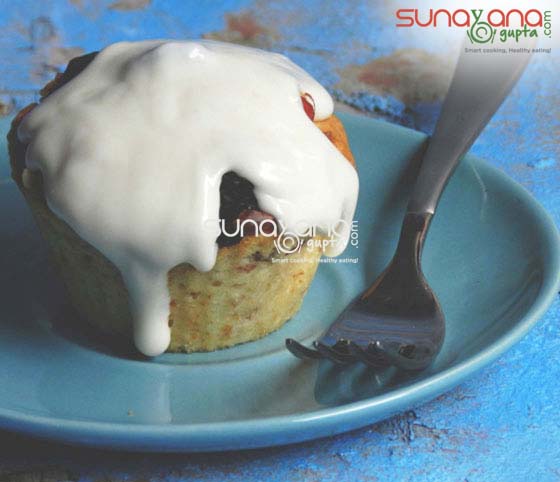 Take your lovely homemade bakes to the next level with this delicious Vanilla Butter Cream Frosting. It is velvety, smooth, melt in mouth and can be whipped up in a few minutes with just handful of ingredients. You can try adding little food color for a splash of color.
Now make your cakes, muffins, cookies and desserts more appetizing and tastier with this oh so delicious butter cream icing. Spread this icing on whole wheat banana bread, buttermilk muffins, almond cookies, peanut butter muffins and make them even better !
Why to buy from the market when you can make various mixes, pastes and purees hygienically at your home with fresh ingredients…!
Did You Try Our Recipes For…
Homemade Kasuri Methi (Dried fenugreek leaves)
Homemade Garam Masala Powder and
Homemade Tamarind Paste…?
Ingredients
Butter (Soft) – 100 gms
Icing sugar – 250 gms.
Milk – 2 tablespoon
Vanilla essence – 2 teaspoon
Food coloring (Optional) – Few drops
Method
To begin with making this delicious butter cream icing, we need to take butter and half of the icing sugar in a mixing bowl and whisk with an electric beater until smooth and well combined.
Add in the vanilla essence and the remaining icing sugar and whisk again till it gets smooth and shiny.
If you find that the icing is too thick, then whisk in milk.
Want to try some food color, then add in few drops of your favorite color and whisk till you get the right shade.
Your very own butter cream icing is now ready. Spread on your cookies or pipe on cakes and muffins to make them tastier and better !