Jamun Syrup Recipe, Kala Khatta Syrup Without Preservatives
Jamun syrup | Jamun recipes | Jaman recipes | Kala khatta | Kala khatta sharbat
| Jambol | Summer recipes | Holiday recipes | Sharbat | Indian mocktail
Recipe, styling & photography by – Sunayana Gupta
Recipe Type – Syrup/Summer recipe/Holiday recipe
Key Ingredients – Jamun, lemon juice, sugar, water
Equipments used – Blender, strainer& a heavy bottom wok
Taste – Robust with flavors- sweet, salty, spicy, sour
Preparation time – 20 minutes
Cooking time – 40 minutes
Serving – Makes about 250 ml. of kala khatta syrup
Shelf life – Stays fresh for a year in glass bottle when stored in refrigerator
Now beat the heat with this 'Kala Khatta Syrup'! Making this lovely syrup is not any rocket science project, you can easily make it at home and enjoy it multipurpose ways.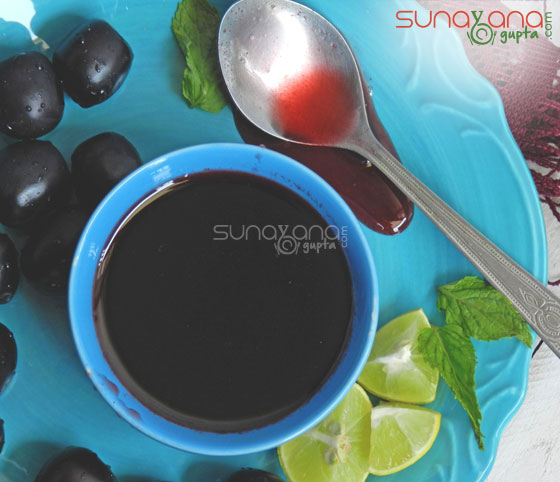 This spiced sweet tangy syrup with deep purple hue is made with jamun or Indian blackberry. In India it is commonly known as 'Kala Khatta syrup' and is used to make ice lollies, popsicles and sharbat. Ice lolly is also known as 'Gola'and you can enjoy it in varied flavors during summers at many street stalls. One of the most popular flavor of gola is 'Kala khatta' as it is not only sweet but a mix of tangy, salty and mild spicy flavors due to little bit of lime juice, black salt, cumin seed powder and a generous use of jamun syrup. So make this kala khatta syrup with our simple to follow recipe and stay cool in summers.
You must definitely try our kala khatta popsicle recipe. It tastes great and very unique!
Did you know, 'Jamun' also known as jaman, jambol, doowet, jambolan, black plum, Malabar plum is an important summer fruit in India and is associated with many health benefits. It is rich in iron that makes it an excellent blood purifier. It has natural cooling property and hence very effective in treating digestive disorders too.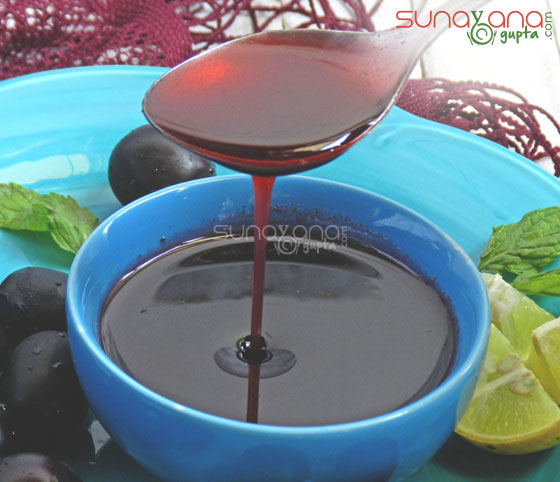 Serving Suggestions
Make kala khatta popsicle with this syrup.
Make sharbats or mocktails and beat the heat. Any cocktail can be instantly given an Indian twist with a slight mix of this kala khatta syrup.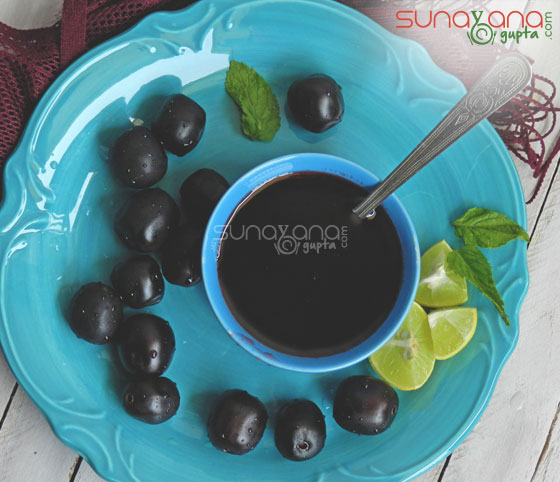 Ingredients
Jamun (Indian blackberry) – 500 gms
Water – 250 ml
Sugar – 1 ½ cups
Black salt – 1 teaspoon
Cumin seed powder – 1 teaspoon
Lemon juice – 2 tablespoon
Method
1. To begin with making this kala khatta syrup, we need to wash jamun. Keep aside.
2. Remove seeds and chop the pulp.
3. Blend the pulp to a puree kind of consistency. If require, you may add little amount of water.
4. Pass this jamun puree through a strainer to remove all the skin. Press the pulpy mixture over strainer thoroughly so as to extract maximum amount of juice.
5. Transfer this jamun extract to a wok. Add water, sugar and cook on high heat.
6. After when it comes to a boil reduce the heat to medium and continue cooking till you achieve one string consistency as you do to make sugar syrup.
7. Meanwhile with a spoon keep removing the impurities that accumulate at the surface in the form of foam.
8. Once you achieve one string consistency, remove from heat and let it cool at room temperature.
9. Add lime juice, black salt, cumin powder and mix well.
10. Store in a clean glass bottle and put in refrigerator.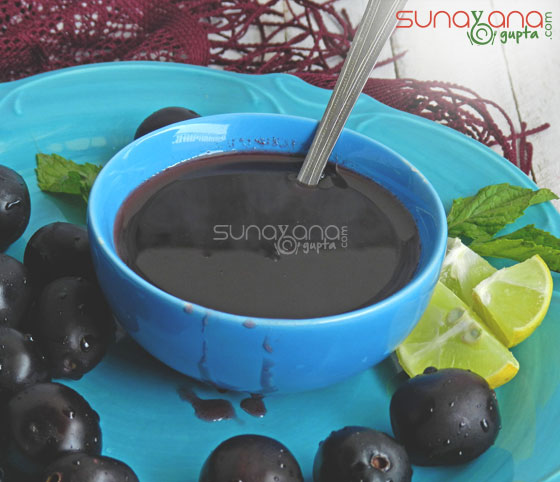 Your very own kala khatta syrup is now ready. Use whenever required. You can also take some ideas from our serving suggestions above.