Recipe/food styling/photography by – Sunayana Gupta
Garam Masala powder is a blend of some spices like cumin (jeera), coriander (dhania), clove (Laung), cinnamon (Dal chini), Bay leaves, black and white peppercorns, Nutmeg, mace (optional), green and black cardamom pods, which is a must-have in the Indian kitchen. A simple dal or vegetable curry reaches another level of excellence and taste, when you sprinkle some garam masala into it. Not only taste, Garam Masala has both of the medicinal and digestive value. In English term, the word 'Garam Masala' refers to the blending of warm spice and the meaning is so true. It is because the spices, which are specifically used for the Garam Masala, keep the body warm. Here we tell you how to prepare this mixture at home
The measurements for 100 grams of Garam masala should be like this:
Cumin seeds(Jeera): 22 grams / 3 tablespoons
Coriander seeds (Dhaniya): 7.5 grams / 2 tablespoons
Clove (Laung): 5 grams /1 tablespoon
Cinnamon (Dalchinni): 5 pieces (1 inch each)
Bay leaves (Tej patta): 15
Black Cardamoms (Badi elaichi): 24 pieces / 18 grams
Green Cardamoms (Choti/hari elaichi): 11 grams / 2 tablespoons
Nutmeg (Jaiphal): 1 or ½ of a nutmeg
Peppercorns (Kali mirch): 18 grams / 2 tablespoons
Mace (Javitri): 5 grams / 1 ½ tablespoons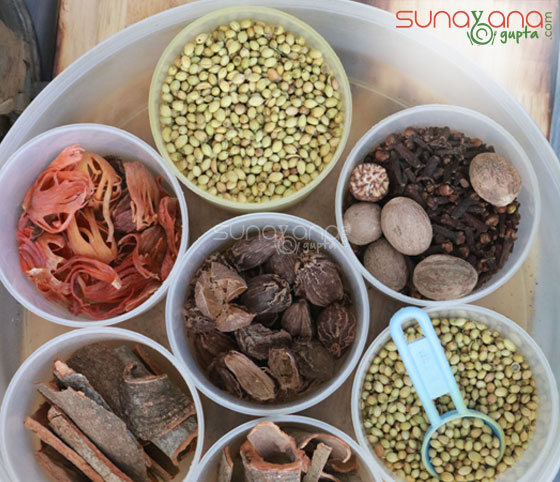 Roasting
Combine all the whole spices in a large pan or wok and dry roast for 4-5 minutes till the spices turn brown in color and give out a nice aroma. Turn off the flame and transfer to a thali or tray and allow to cool at room temperature. The nutmeg/ jaiphal and cinnamon sticks are difficult to grind. Hence, you can break them with a mortar pestle and then roast with the rest of the whole spices.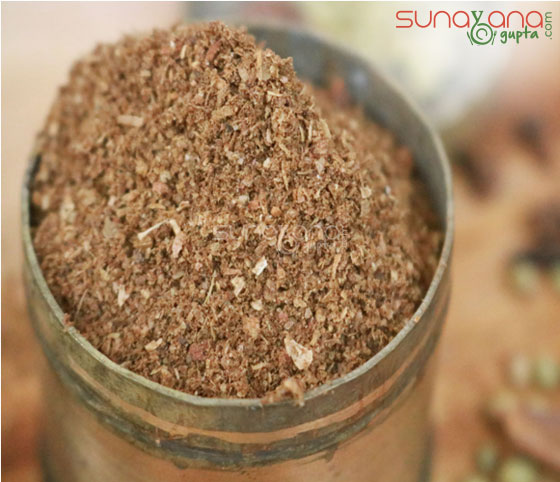 Grinding
Once the roasted spices are cool, you can grind into fine or slightly coarse powder in a mixer grinder. If your mixer jar is small and cannot grind all the quantity at once, then divide the spices into 2-3 portions and grind into batches.
If you're making a smaller quantity and want a 'Coarse' texture, then you can grind it in a mortar pestle. This would be tiresome, but the results would be phenomenal.
Storing
After grinding, store this aromatic garam masala powder in an air-tight container and use as required. Would stay fresh for more than 6 months