Let us take you back in the era where cooking was mainly done in Clay Pots or Mitti Ke Bartan. Though a bit tedious, but Cooking in Clay Pots is full of Health Benefits and the food used to be really amazing soaked up with earthern flavors, aroma and healthy too.
But time has changed and we hardly think of doing so, though this cooking method still persists in rural Indian culture where you can still get Dal or Sabzi cooked in Handis and Rotis or Bhakhris roasted over Mitti Ka Tawa on a Choolha or Clay Oven.
What is actually cooking in Clay Pots ?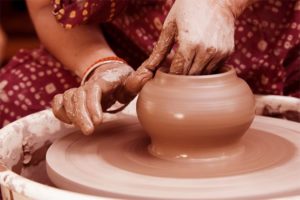 Cooking in clay pot refers to the process of cooking food in a pot, which is made up of glazed or unglazed pottery. And unlike the metal pots, clay pots can absorb toxins, neutralized by the UV rays of fire.
It is true that meals can be prepared more easily in clay pot than the metallic pots. By covering the meal in a clay pot, which is soaked in water, it is ensured that you save the natural juice of the food, the vitamins, minerals, and other nutrients also remain intact. When the clay pot comes in touch with fire, it turns the retained amount of water into steam; and at the same time, it keeps the food nicely flavored.
Indian households use earthen pots for healthy cooking
It has been a long way that Indian households use earthen pots for healthy cooking. But in most of the cases, the urban lifestyle does not allow you that much time to cook in earthen pots. So, they opt for various modern options such as non-stick cookware, stainless steel, and more. The benefits of choosing earthen pots for cooking are many. It is the porous nature of these pots, which provides them with the ability to let the moisture absorb, circulate the heat slowly in the entire food while leaving it more aromatic and healthier with all the minerals.
Types of Earthen Cookware
Clay pots are heated at low temperature to produce earthenware which are porous and thick layers of glazing are added to use it as water container. Impure clays containing stones and particles are used for preparing earthenware clay pots. At around the temperature of 1700 to 2100 degree Fahrenheit, the earthenware clay pots are heated to give them desired shape.
If you look for clay pots in the market, a number of options are available. These clay pots are classified depending on their different shapes, sizes and used for several purposes.
-There are bean pots, which are actually deep and round vessels put with domed lids. For ease, sometimes handles are used. Generally, these bean pots are used for slow cooking of stews, soups and vegetables.
– The classic unglazed pots made out of Romertopf are generally rectangular with a domed lid and you can use them for cooking any kind of vegetables, fruits, fishes etc.
-Both the garlic and onion bakers are among the cooking clay pots with domed lids.
How to cook in Clay Pots ?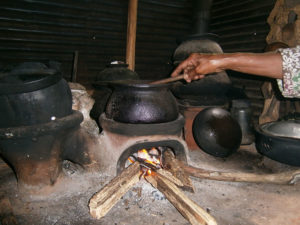 While making clay pots, it is important to follow a proper seasoning process to prepare it for exposing to heat. These clay pots are good to be seasoned by hot water and oil, to avoid sudden crack due to temperature change. But there are various techniques of cooking in clay pots depending on different cultures. Some of them prefer cooking in these pots by finishing them completely while others choose unfinished pots soaked in water. Whatever you may cook, it should be cooked in slow heat. Foods cooked in clay pots are cooked in steam while keeping the dish full flavored and chance of getting your food burnt is the least. Also, the food cooked in clay pot, is lower in fat as it needs less oil.
My Cooking On a Manual Tandoor/Choolha With Mitti Ki Handi –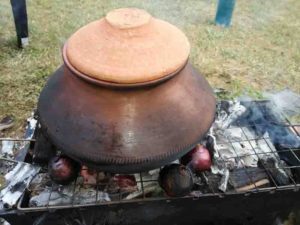 This New Year I planned to start it with something unconventional and something that could involve the whole family as well. So the idea came for cooking  Lunch in open garden (Yes, being a cooking freak most of my thoughts revolve around cooking-baking-roasting-poaching  😛  Call me crazy if you want !). Well, I am lucky to owe a personal garden that acts a great stress buster not only for the primary purpose of gardening, focusing on my show plants-folliage-bonsai-succulents, but also providing a great open space for tea time parties and occassional gathering with family & friends.
So the planning was done! Now as I am settled in Greater Noida, so while in one of those casual trips to Gurgaon purchased this Manual Chulha or Tandoor from a roadside shop and also this wonderful Mitti Ke Handi. Availability of 'Dry wood' is nothing sort of worry, thanks to my garden!
So on the first day of new year we all were exceited with the idea of open cooking. Got those clay pots thoroughly washed, cleaned and glazed it with mustard oil both inside and outside. We made Awadhi style Aloo-Gobhi-Matar Gravy along with Roasted Onion & Garlic Pickle. Remaining items like Chapati etc. was cooked over gas top the usual way. What I noticed was that the taste and texture of this sabzi was absolutely different than what we make on a gas stove. Nothing fancy, everything simple…yet outstanding.
Earthy flavors, lip smacking and beautifulllll…!
Enjoy these pics –